"In the early spring we would drive down to the beach for the day. Got pretty sunburned, since we weren't used to that hot sun. Both Olaf and Erik Lorentzen had cars, as well as Tore Runhovde who had a big Buick convertible.
Since I was interested in song and music, I joined the Glee Club and received a key on "Honors Day". Mr Kuszinski wanted me to join the band the next year, but now I was in graduate school and too busy studying.
My roommate Chuck talked me into going with him to the Congregational Church. Made some very good friends there and we had a very nice fellowship supper there every Sunday evening. The Lutheran minister couldn't quite figure those Norwegians who never came to church.
Since we had tickets to all the ball games, we attended those. Suppose I was quite interested in the teams. Basketball was good, football mediocre.
We had almost all of our meals in the cafeteria. You could have three meals a day for $1.50, and you wanted to be extra extravagant, you could have a "cow college" t-bone steak for $1.45. Sometimes we would have breakfast across the road (Hillsboro Street) and dinner with Steve Yang at the Chinese restaurant down on Hillsboro, eating with chopsticks, or we could go to the S&W cafeteria downtown, where black waiters would carry your tray for a dime.
The college had about 5000 students at the time, approximately 4900 men and 100 women, all white. All the janitors were black. They made about $25.00 a week.
The school year was divided into three semesters, fall, winter, and spring. Tuition for an out of state student was $100.00 per semester. Lodging in the Gold dorm where I lived was $28 per semester. Not a bad price for a college education.
Infrequently, when studying at night you would hear a trumpet blaring, and looking out the window a cross would be burning out on the lawn. It meant nothing to me at the time, but thinking about it later, there were many "foreigners" living in those dorms.
The Andersons would take me along or give me tickets to the Community Concerts. I was very fortunate to see and hear in person, Marian Anderson, Arthur Rubinstein, and Leonard Bernstein. He was at that time conducting the Pittsburgh Symphony and was soloist in Gershwins "Rhapsody in Blue".
Travels When in College
My first outing when at State was to attend a meeting of the AATCC (the American Association of Textile Chemists and Colorists). I had been in school for a few weeks and Hank (Professor Rutherford) asked if anybody wanted to go (he had the use of the Dean's car). I raised my hand, the only one.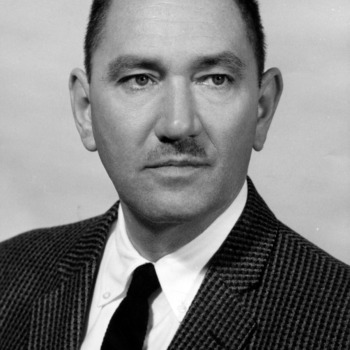 Hank Rutherford 1947
We left early on Saturday morning for Greenville, South Carolina. Arrived at the Poinsett Hotel about noon. Got one room with one double bed! I don't mind Hank told the desk attendant. I didn't mind either, being accustomed to lean sleeping quarters in Norway during the war years.
Had a good time. The DuPont group invited us for lunch. It was the first time I had shrimp cocktail. Left about noon time Sunday. On Monday morning Dean Campbell asked Hank, "How did Otto enjoy the meeting?" and Hank answered, "He thought it was a great success." It was just great how I was accepted after just a few weeks at school.
Audun, my brother, was in Cleveland, Ohio, and asked me to come and spend Christmas there and then we would go up to Canada for some skiing. My friend at college, Pete Bachinger who was Swiss, was going to Wisconsin, so he gave me a ride to Cleveland. Dropped me off at Andy's (Audun's) house. We had a nice Christmas spending Christmas Eve with the Furseth family from Bergen. We left for Canada Christmas day evening. Stopped in Montreal, very cold. After a spaghetti lunch, we stopped at the Canadian Broadcasting System where Andy had made some broadcastsabout the life of a Norwegian student in the U.S.A. The announcer was Krabbe Smith, a real neat guy. Tante (aunt) Ovidia had heard Andy's broadcasts and written to Krabbe Smith and got some very nice replies. In the afternoon we left for Ste. Agathe Des Monts where we stayed the next week. Had a nice room in a boarding house, paid $2.00 per day. Good skiing, cold, and not many people around."
To be continued soon.
Things were different 70 years ago, weren't they?